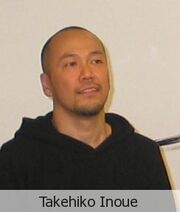 Takehiko Inoue (井上雄彦, Inoue Takehiko?, born 12 January 1967 in Okuchi, Kagoshima) is a Japanese manga artist, best known for the basketball manga Slam Dunk, which has become a success both in Japan and overseas. Many of his works are about basketball, Inoue himself being a huge fan of the sport, and many Japanese children started to play basketball because they read the manga. This in turn helped make basketball popular in Japan and across East Asia. He is also the author of Vagabond.
Ad blocker interference detected!
Wikia is a free-to-use site that makes money from advertising. We have a modified experience for viewers using ad blockers

Wikia is not accessible if you've made further modifications. Remove the custom ad blocker rule(s) and the page will load as expected.